SUMMER PACKING LIST, PART 2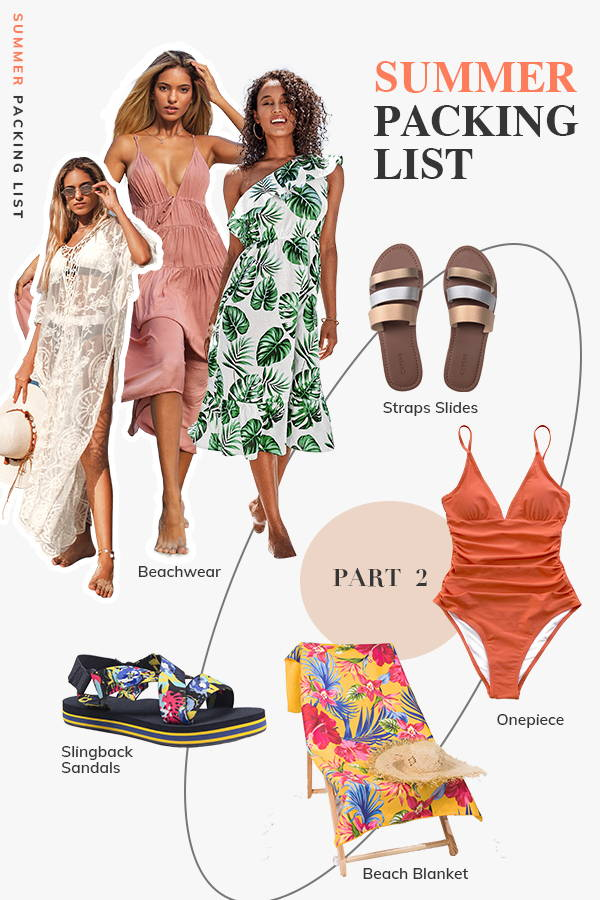 We told you we'd be back with more packable suggestions and just in the nick of time, since picking out clothes for a real, honest-to-goodness vacation basically requires a degree in advanced fashion geometry. X-number of outfits, multiplied by 7 days, within the diameter of a travel bag equals total chaos and pre-trip stress. Miss us with that whole scene, thanks.

Romantic Escape With Your Significant Other:

You're embarking on a vacation designed to enhance romance, whether you're a long-term couple reigniting the sparks, a newly minted duo in the early stages of your relationship or somewhere in between.
We already know that your suitcase will dictate the parameters of your packing plan, but there's something else to note: romantic holidays tend to be a bit more inward facing. They're about strengthening a couple's bond (think about the "just the two of us" vibe of most honeymoons and babymoons).
That's not to say you two won't explore and learn while you're off on a jaunt together, but broadening your horizons is probably lower on the to-do list than spending quality time with your sweetie when you're going on an amorous escape. This info will aid you as you plot out what goes in the bag. Will you need to pack those multi-pocketed pants that zip off and turn into shorts? Signs point to no. Ditto goes for heavy hiking boots.
Instead, staple sandals like the Forbidden Fruit Snakeskin Cutout Slide Sandals lend another layer of detail whatever outfits you bring along, from bathing suits like the Amari One Shoulder One Piece Swimsuit to bright and flirty frocks like the Amber Cutout Tie Back Dress. The range of neutral colors in the snakeskin print allows for easy clothing coordination without being too matchy-matchy.
If this is your first ever getaway with your honey, you'll want to impress your V.I.P. (Very Important Onlooker) with a sleek and sophisticated options like the Kimber Cap Sleeve Ribbed Bikini or the Hallie Plunging Halter One Piece Swimsuit. Both project pure confidence without going over-the-top on skin exposure. Likewise, the sweet, checked print and seersucker texture of the Summer Gingham Triangle Bikini mirror the dreaminess of love's first blush.
Those who've been cuffed for longer will want to opt for swimwear with a bit more attitude, like the Carolina Drawstring Ruched One Piece Swimsuit. Cinch the sides to create the perfect amount of leg exposure, as low or high cut as you like. For a cover-up option, the Elodie White Embroidery Mesh Kimono is ethereal and elegant––definitely a mood worth actualizing.
The Wildside Leopard Beach Blanket features a graphic take on an animal print, with a pretty peach background that lends a flattering glow (just like being in love does!) to any skin tone. Alternatively, go full-out with a Hawaiian floral throw for your lounge chair with the Marigold Floral Beach Blanket. We love this one as the backdrop for a super-sexy white swimsuit like the Jamie Textured Eyelet Buckle Bikini. Those tough-but-tender buckled shoulder straps? So here for it.
Keep in mind the different occasions you'll encounter on a couples trip, too. You may need dressy options and going-out clothes, like the Sylvia Floral Wrap Dress for a dinner date that overlooks the ocean. You could also go the trend-forward route with a dazzler like the Ruth Moss Green Keyhole Cutout Sleeveless Dress that features the details of the moment, midriff cutouts. Refined shoes like the Bastille Wide Strap Slide Sandals add enough metallic pop that they're like jewelry for your feet.
If it's mostly going to be languid picnics and cooking at your vacation rental, pack your bag accordingly. The Natasha V-Neck Front Split Dress is ideal for that sort of situation. The smocked, stretchable bodice allows for unrestricted movement (you'll need to act quickly if you want to shoo critters away from picnic snacks) and the longer hemline won't leave you exposed when it's time to sit. It's perfect for an afternoon spent canoodling on the grass with wine glasses in hand.