HOW TO MAKE THE BEST 2022 CALENDAR
It's so easy to make the best calendar using the dysdyl.com online calendar maker because you can truly customize it with your key events and special dates. With
dysdyl.com
, you can personalize a
2022 calendar
for your kitchen, office, study, or anywhere else you need one. When you make a custom photo calendar, keeping track of all your important 2022 dates, such as dentist appointments, birthdays and holidays, is fun and easy!
Creating a personalized calendar online is a cinch. All you need to do is choose your calendar style and design, upload photos and add important events to our pre-made calendar layouts. We'll print it and deliver it straight to your door.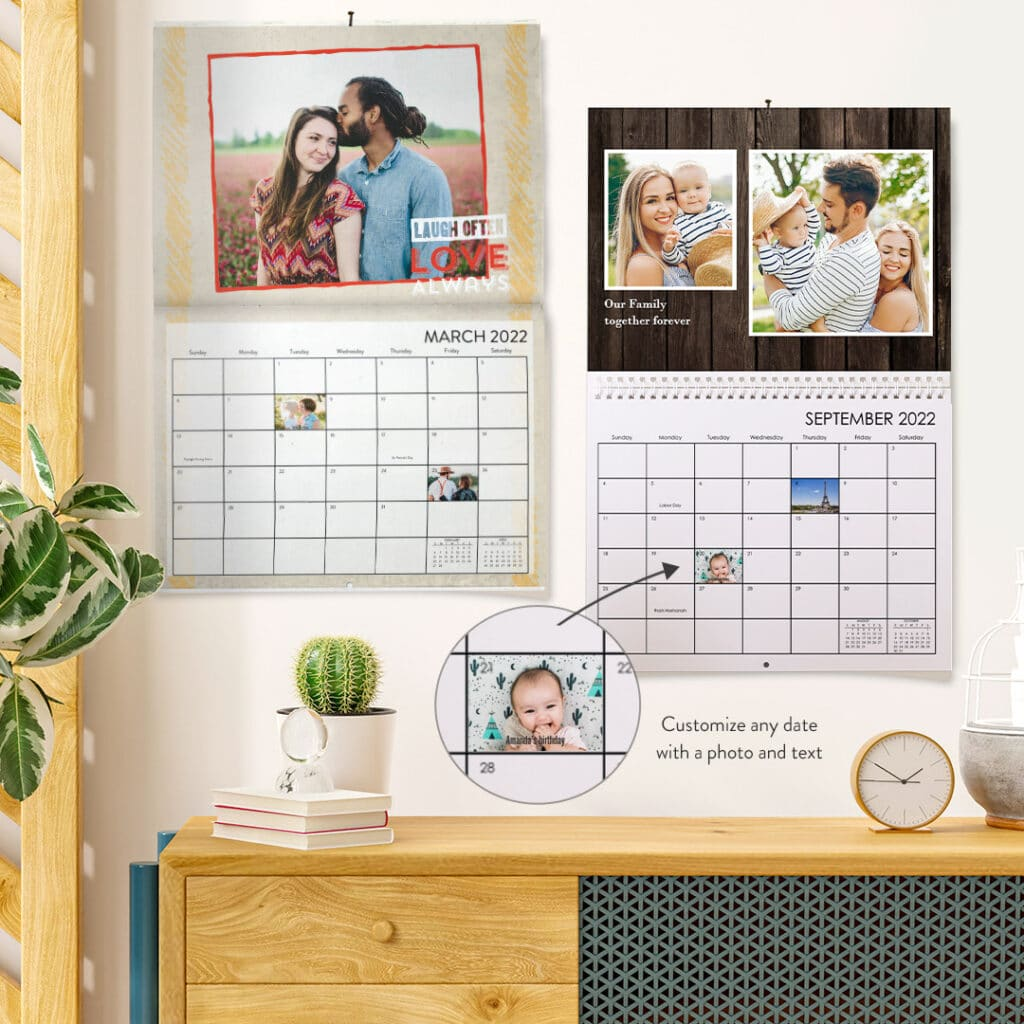 Wall Calendars
Before choosing your 2022 calendar, think where you'll be using the calendar. A monthly wall planner is the best option for regular use and writing down daily notes in a high traffic area, while a table-top calendar could be the best for glancing at those key dates each month.
Our wall calendars are printed on high quality paper or cardstock which means your calendar has a beautiful professional finish. To make the wall calendar your own, our pre-made calendar layouts have space to include a large photo for each month or you can create a unique photo layout on each page with all your best pictures. Don't forget to include photos and text on important dates – for free – when you order one of our Wall Calendar options!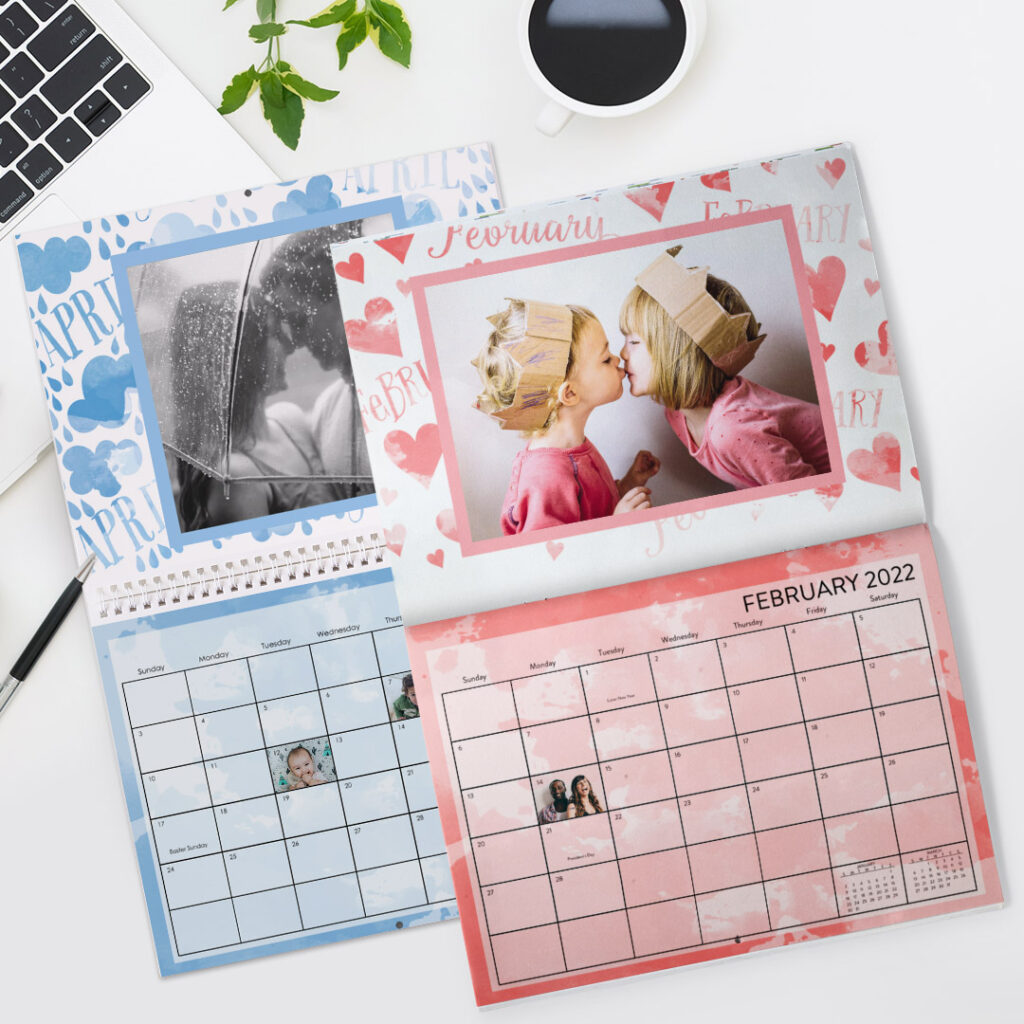 Table-top Calendars
Our desk calendars (with standard or faux leather stands) and wood block easel calendars are suited for desks and hallways, where you want to see your favorite memories and just circle key dates to keep track of those special occasions. With dysdyl.com, it's easy to make the perfect calendar online for your home, for the family, and the office.
Desk Calendars
Desk calendars are perfect for office or home desks. The desk calendar is available with a standard or faux leather stand, and sits flat on the table top so you can easily see the calendar while you're working and flip the month over when it's time for a new month. Desk calendars make great at-a-glance calendars since you can simply highlight those key dates and flip through all those fond memories throughout the year.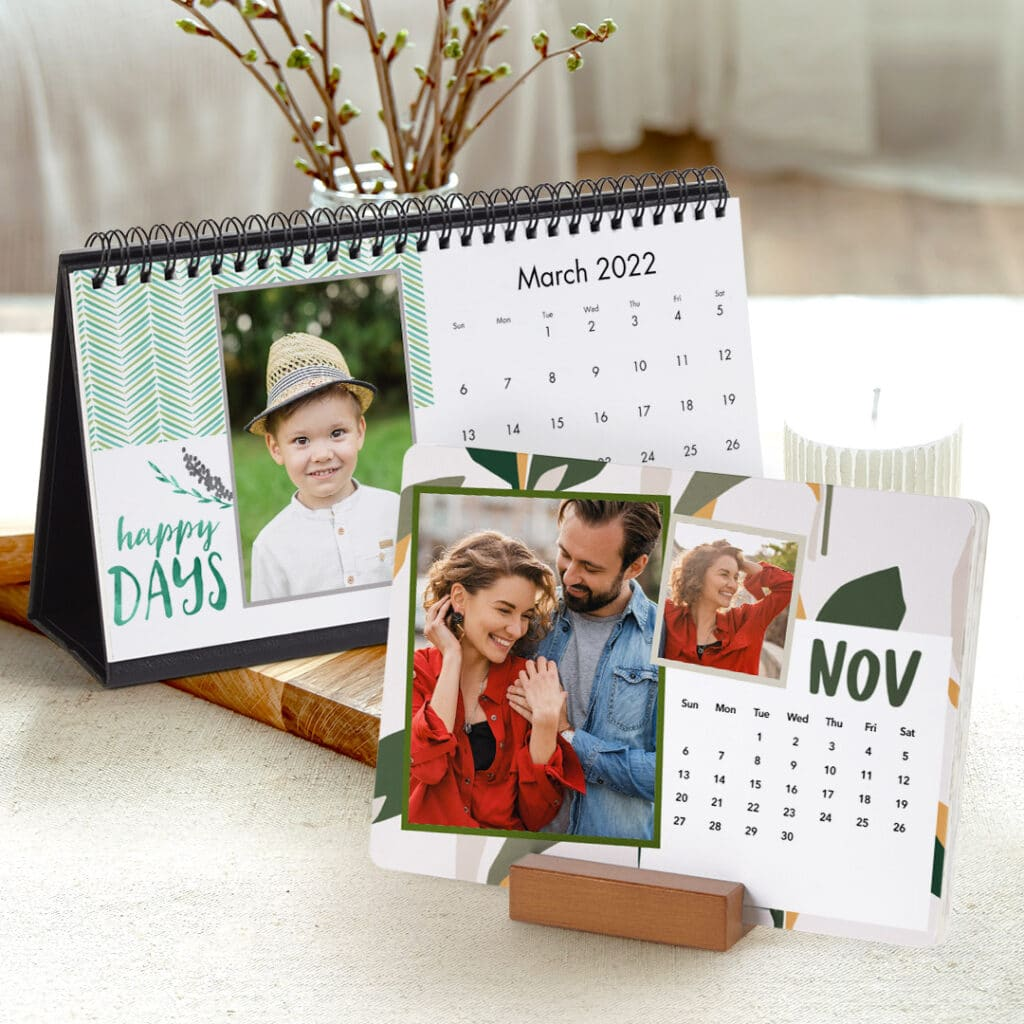 Whatever calendar type you create, have fun making it unique with pre-designed photo layouts and backgrounds that you can customize. Your calendar can showcase pictures of the family, pets, travel spots, kids, and many more memories and they also make the best holiday gifts for your family year after year!