GREAT IDEAS FOR CUSTOM APPAREL + ACCESSORIES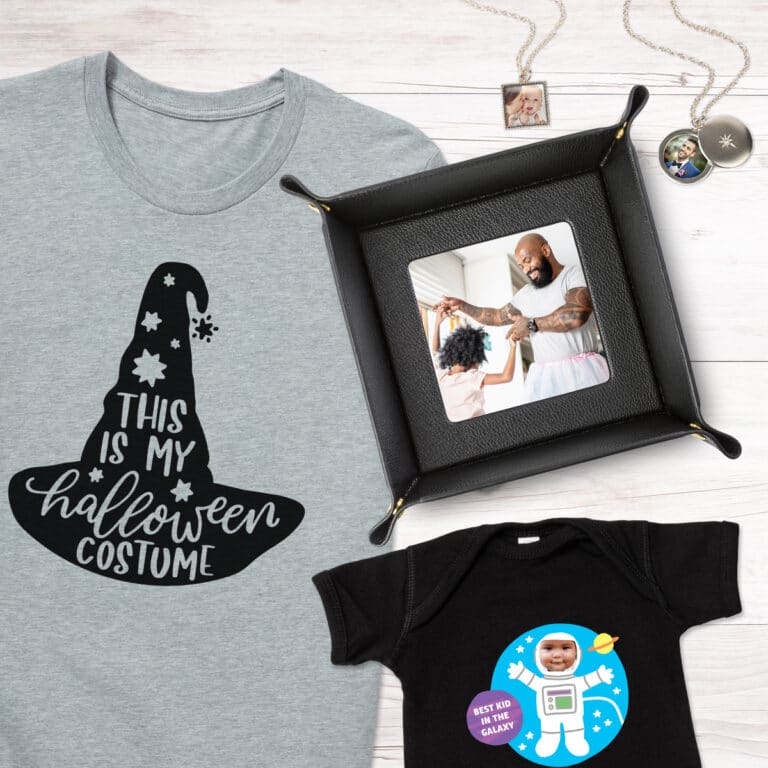 We're always on the hunt for new, fun (and easy!) ways to add a personal touch to the everyday. Whether you're treating yourself or a loved one, you can't go wrong with a thoughtful twist that's both sentimental and stylish. That's why we've rounded up a list of different ways you can customize our apparel and accessories, from timeless tokens to milestone memorabilia. You're sure to find something to love and wear for years to come!
1. Holiday tees
We all know making memories with loved ones is more valuable than ever! Create matching t-shirts to commemorate your family's favorite holiday. With our online design tool, it's easy to add embellishments for Halloween, Christmas, Fourth of July, you name it! And with t-shirts available in youth and toddler sizes, plus baby bodysuits, the whole family can get festive together!
2. Wedding party shirts
Get the entire wedding crew decked out for the bachelor party, bachelorette party, or couple's shower. There's no minimum order on any t-shirt design, so you can create a custom shirt as unique as each member of the wedding party. Feel free to personalize individual tees for the Bride, Groom, Maid of Honor, Best Man, and all the rest!
3. baby onesies

Document each month with baby onesies featuring their age + name for an adorable photo op. Extra brownie points for color coordinating the design with the nursery décor!
4. A picture-perfect pendant
For a piece of jewelry that truly keeps loved ones close to your heart, design your own necklace using a treasured photo. This timeless token is ideal for new moms or for gifting on Mother's Day and Grandparents Day. 
5. A tray for little treasures

Need a teacher appreciation gift? personalize it for the fashionista in your life, so they have an easy, go-to spot to hold rings and bracelets on their nightstand or bathroom counter.

When it comes to custom apparel + accessories, the possibilities are endless. Get creative with photos, designs, and embellishments.