Choosing Swimsuit Material: The Best Swimsuit Fabric, For You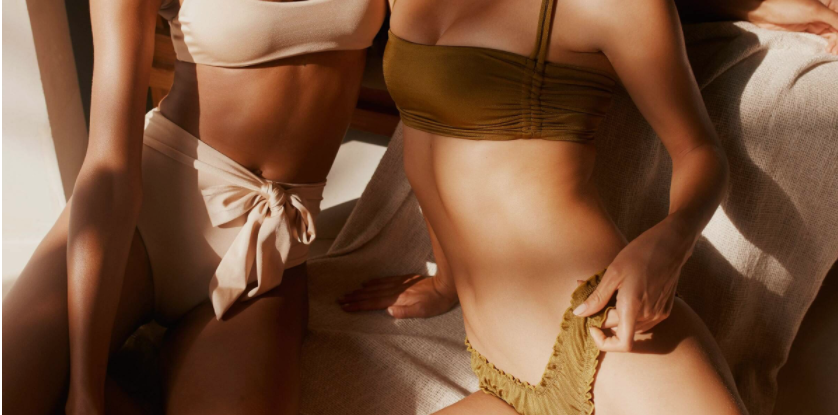 Whether you are looking for a fabric for your
swimwear line or next purchase it's good to know what the options are. This post will cover the common materials, and their uses & characteristics. We at
Dysdyl.com
also dig into weights, compositions, textures and the sustainability of swimwear fabrics.
Do note that no fabric is better than another, but that the fabrics have different attributes making them more suitable for different uses.
There are two major fabric options:
NYLON BLENDS
Nylon blends are what you will come across most in the female swimwear fashion world.
WHY?
It is soft and comfortable. It gives a good stretch, and it hugs your body really well.
A typical blend is around 80% nylon and 20% of the stretchy bit.
Nylon can also go under other names, such as Polyamide (PA) which is essentially the same. Nylon is the group name of some particular Polyamides.
Nylons are not to be printed on, the result is blurry and the print will bleed.
CHARACTERISTICS
Feel: Very soft
Stretch: Very Good
Durability: Good
Dry: Quick
Printable: No
UV resistance: Sometimes
Chlorine resistance: Rare
Repels water: Yes
Care: Hand-Wash, Hang to Dry
POLYESTER BLENDS
You'll find polyester blends mostly amongst competitive
swimwear
.
WHY?
It is soft yet very strong, and it is chlorine and UV resistant.
Polyester blends also have the benefit of being able to absorb dye. This means that you can dye and print it with rich and crisp results.
CHARACTERISTICS
Feel: Soft
Stretch: Good
Durability: Very Good
Dry: Quicker
Printable: Yes
UV resistance: Yes
Chlorine resistance: Yes
Repels water: Yes
Care: Hand-Wash, Hang to Dry
What else look for in swimwear materials
WEIGHT
Most fashion swimwear fabrics range in about 180-200 g/m².
SUSTAINABILITY
Traditionally swimwear has used fabrics that are heavy on environment. However as consumer awareness and demand has evolved – fabric options have with them.